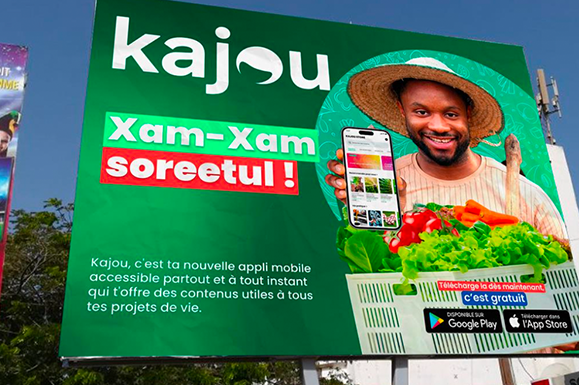 On November 23, 2022, the social enterprise Kajou launches in Dakar (Senegal) the Kajou Store, an online digital library, 100% free of charge, which offers more than 10,000 educational, training and information videos on subjects as diverse as exam revision, entrepreneurship, children's education, health, agriculture, sports or language learning.
Kajou is a trusted media, which offers resources selected and validated with care by experts in each field. The main topics covered are :
Primary education,

Secondary education (especially for exam review)

University (with courses in economics, mathematics, medicine, psychology, and resources for choosing a college major)

Orientation and job search

Entrepreneurship (from the idea to the implementation of a project!)

Personal development

Introduction to digital technology

Everyday health (good preventive practices, maternity, nutrition, sleep, children's health, etc.)

Agriculture and livestock

Mechanics and DIY

Etc.
Kajou is based on the principle of micro-learning: short self-training resources, very practical and easily consultable while on the move (during waiting time or in transportation, for example). No need for a degree or academic experience to consult Kajou: the content is selected to meet the needs of as many people as possible.
The Kajou Store receives the support of a sponsoring committee composed of personalities recognized in their field, in particular: Idrissa Diabira (Director General of ADEPME), Ibrahim Nourr Eddine Diagne (President of the National Digital Council and Director General of Gainde 2000), Alassane Lo (Expert in entrepreneurship and business creation), Sophie Nzinga Sy (Designer and Founder of Dakar Design Hub), Dr. Massamba Gueye (Researcher, writer, poet and Founder of the Maison de l'Oralité et du Patrimoine) and Ndongo Camara (Tax expert and Director General of Nkac Audit).